Definitive Guide to Rhassoul Clay + Everyday Uses and Benefits
When we pair up the words beauty and Morocco, what type of images come to your mind? I bet you will first visualize a luxurious bottle of the very precious argan oil, otherwise known as liquid gold.
Perhaps you will envision yourself at a hammam (a turkish bath) waiting to have your outermost layer mechanically —and not so gently, by the way—removed with a kessa scrubing glove.
You would, though, be a little bit luckier sense-wise if you were able transport yourself to the part where your body is smothered with a clay mask while you are restfully laying on the marble slab.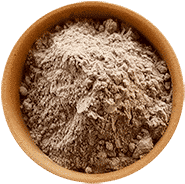 Oh, yes! Here comes the omnipresent clay again. Have you noticed that practically every single culture has incorporated an earthy mixture into their beautifying and detoxification rituals?
This must have been a trial and error process as, back in ancient times, there were no fancy laboratories with state-of-the-art equipment that could analyze the properties of clay.
Luckily for us, technology has been able to prove over and over again —via several rigorous clinical studies— the undeniable benefits of external application of clay.
Whether your aim is cleaning/softening the hair, protecting against UV light, improving different forms of dermatitis or even healing skin lesions and ulcers, clay can be your best ally[1].
There are so many varieties of clay in the market that it can get very confusing when it comes to picking the one that best suit your skin needs. Many of you might think that they are all very similar and that all the buzz is just about marketing.
The truth is that variations in clay´s mineral content changes the way the clay acts with your skin. That is why it is extremely important that you educate yourself on their pros and cons.
The very lovely Moroccan clay that sort of gets lost in the muddy mixture that is whipped up at the hammam has a very unique composition. This clay is known as Rhassoul and we promise you will be able to learn all the juicy details about it if you keep reading. 
In this guide, we only cover external uses and benefits of rhassoul clay, mostly for beauty and cosmetic purposes. Rhassoul is not a clay for internal purposes.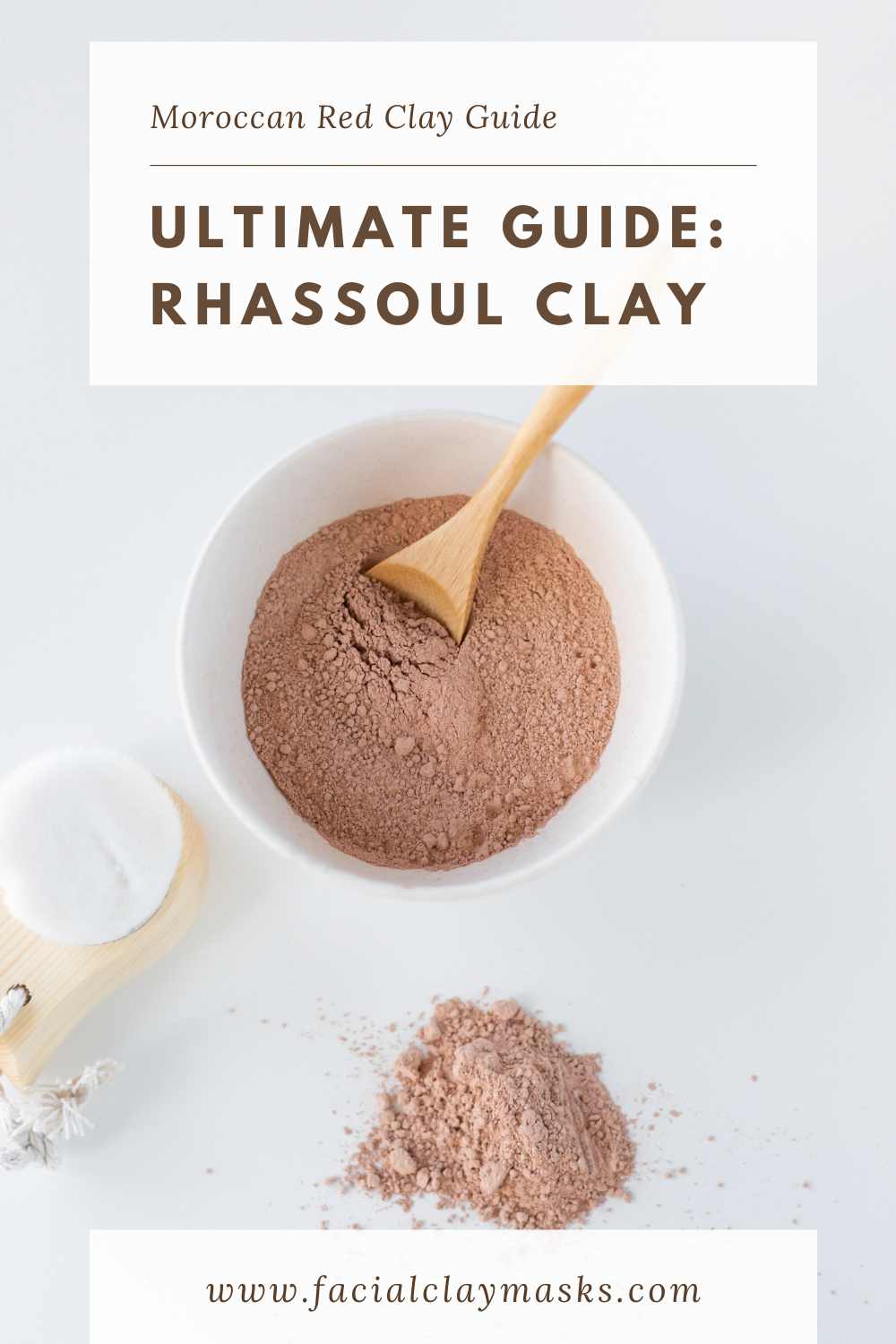 Because we named this the "definitive" guide of rhassoul clay, we had to be super thorough.  Keep scrolling to read all the details or skip to one of these sections: 
What is Rhassoul Clay?
Rhassoul, also known as ghassoul, is a brownish clay that was formed in deposits approximately 208 million years ago during the Jurassic period of the Mesozoic era.
Rhassoul is made up of volcanic lava and extracted from the Moulouya´s Valley in the Atlas Mountains of North Eastern Morocco, the only known Rhassoul clay deposit in the world[2].
Its name is derived from the Arabic word "ghasala", which means to wash[3].
Once the rhassoul is mined, it is washed, sun-dried and then finely ground. This clay is 100% natural and has been used since the XXII century by Berber women[2].
It then went onto become a sought-after beauty and health product in other parts of North Africa, the Middle East as well as in the Fast East and Western countries. It was even used as dowry for marriages[4].
Rhassoul clay is packed with minerals and trace elements such[4]:
alumina (Al2O3)
calcium (CaO)
iron (Fe2O3)
magnesium (MgO)
potassium (K2O)
sodium (Na)
silica (SiO2)
Of all these components, it is silica (around 55-60%) and magnesium (22-25%) that really stand out. Unlike other clays, rhassoul has a very low alumina concentration.
Read more: Science of how clay is formed and works.
How Does Rhassoul Work?
As rhassoul does not contain any foaming agents, it will perform its cleansing action by a process called adsorption. To better understand these concepts, let´s do a little recap on clay´s classification and functions.
Clays are grouped according to their origin, properties and structure. Keeping this in mind, clays are divided into the following categories:
Kaolinite
Smectite
Illite
Chlorite
According to the mineral analysis of rhassoul clay, it is mainly composed of smectite (89-95%), a small amount of illite (3-7%) and traces of kaolinite (< 5%)[4].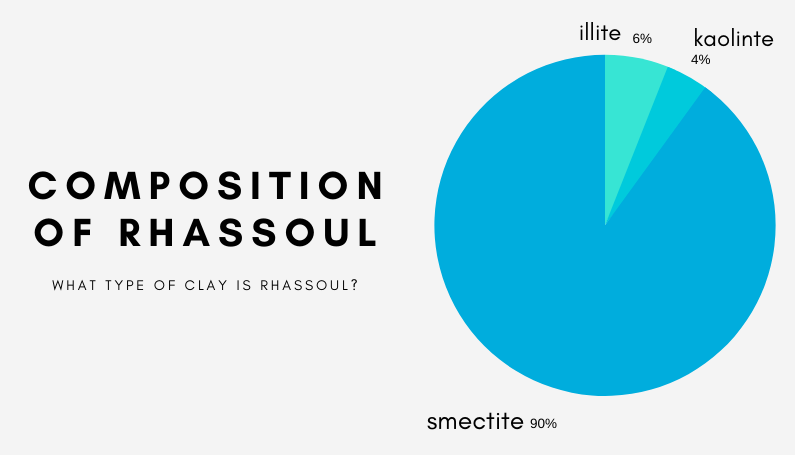 Smectite clays are further subdivided into montmorillonite, beidellite, nontronite, saponite and hectorite. Rhassoul is a stevensites, a magnesium smectite. 
In fact, smectite clays have an exceptional expanding ability. After water is added to the rhassoul, it will swell and turn into a soft mass that is capable of absorbing and adsorbing any excess oil and impurities (just like a blotting paper)[5]
FYI, adsorption is when particles stick to a particular surface. Absorption, on the other hand, is the penetration of a liquid or solid into a substance[6].
Both the absorbing and adsorbing actions take place between the flat layers of the clay particles, when the swelling causes them to move apart.
You've probably heard the term, clay is negatively charged.  But what does that mean?
Because Rhassoul´s particles are negatively charged: they contain anions or ions with a negative charge.  The toxins found on the skin´s surface and pores, though, have a positive charge (cations). Thanks to rhassoul´s amazing ion exchange capacity, it will pull the cations out of the skin into the inside or surface of its particles.  
Read more: The science behind How Clay Works.
No wonder why it has become a staple hygienic and beautifying element in Moroccan households and hammams.
What is Rhassoul made of? 
Clay's are made of minerals.  So what minerals are in Rhassoul? 
The best way to fully understand all the good things that rhassoul clay can do for you is to take a closer look at its minerals:
Alumina: 
This naturally occurring mineral, also known as aluminum oxide, is not the aluminum you are thinking of. Aluminum oxide is insoluable, so your skin won't absorb it and used safely in many many cosmetics[7].  
Calcium: 
It may come as a surprise, but calcium is stored in the epidermis to keep skin hydrated and regulate sebum production. This storage also promotes healthy skin division and regeneration[8].
Iron: 
Iron can help prevent and reverse damage caused by free radical exposure and sun radiation. Furthermore, it is required for proper wound healing and collagen metabolism[9].
Magnesium: 
Magnesium can regulate more than 300 enzymatic reactions in our bodies. When the concentration of this element drops below normal, you may experience a whole host of effects.
While magnesium deficiency is extremely common, the most common way to improve your magnesium is by vitamins and food.  But magnesium that applied direct to your skin, called transdermal magnesium, might actually be a more effective way to increase absorption but more studies are necessary[10].  
Sodium: 
Sodium salts —sodium PCA, sodium hyaluronate, etc. — boast extraordinary hydrating properties[11]. That is why you often find them in formulas that claim to lock in moisture and prevent transepidermal water loss.
Salt baths are often prescribed by doctors to their eczema patients because they are known to relieve dryness, itchy skin and inflammation[12]
What are uses of Rhassoul Clay?
Bentonite clay is named the clay of 1000 uses.  Sharing the same clay family as Bentonite, you can use them in very similar ways. While Rhassoul clay doesn't quite have as many known uses, there is still a ton of uses: 
Soap
Clay packs
Facial cleanser
Body cleanser
Body wrap
Shampoo

Hair mask

Makeup powders
It's surprising how many uses there are for clay. 
The Benefits of Rhassoul Clay
Rhassoul clay is sooooooooooo versatile that is really challenging to summarize all its virtues.
Rhassoul clay only has a handful of studies completed despite being a popular skincare ingredient. We have included some of the benefits below because of it's studied adsorption and cation exchange capabilities[13].
In a nutshell, this is what you should expect from topical rhassoul application:
Is hypoallergenic
Stimulates circulation
Purifies the hair and skin
Improves the appearance of pores
Improves skin elasticity
Reduces dryness and flakiness by controlling oil production with ongoing use[14]
Softens and smooths the complexion
Adsorbs excess oil
Deeply cleanses and purifies the skin and hair
Provides relief to burned and irritated skin and scalp
Helps improve dandruff as well as seborrheic hair and skin conditions
Supports the treatment of acne
Suitable for all hair and skin types, especially those which are sensitive and oily
The lowdown on Rhassoul Blending
You will discover, all clays are different.  Therefore how to mix them can vary from clay to clay.
As a rule of thumb, for every tablespoonful of rhassoul, add the same amount of water (plain, hydrosol or tea). Mix together until a smooth desired consistency. If it is too thick, add more water; if it is too runny, add more rhassoul.
PRO TIP: for dry hair or complexions add a few drops carrier oil: almond, argan, avocado, coconut, macadamia, pomegranate seed, etc.
Or pick one of these Rhassoul Clay Mask Recipes: 
Do not discard the rhassoul leftovers; they can be stored in a tight container and used again within a couple days. If they dry up, they can be rehydrated by adding just a little bit of water, hydrosol or tea.
Happy Rhassoul Blending!
If you enjoyed our Rhassoul definitive guide, we also have in depth guides on other types of clay, including:
What has been your experience with Rhassoul Clay?  Super eager to get your feedback, leave a comment below 🙂
Disclaimer: our content does not constitute dermatologist or medical advice.
Featured Bentonite Clay Recipes: