Best 9 Kaolin Clay Mask Recipes for Sensitive Skin
Kaolin clay is my favorite versatile go-to clay.  It's versatile because it works really well for all skin types, even sensitive skin types.
Kaolin clay is very distinct, it's a fluffy white clay.  It's mined in many locations across the world, some sources produce a different colored Kaolin. You might see pink, yellow, or even red kaolin clay.
Related: Definitive Guide to Kaolin Clay + 8 Uses
The fluffy white clay is different in texture from other types of clay.  But when mixed with water is mixes in a smooth white paste.
Just some of the benefits of Kaolin Clay:
cleansing
natural detox
oil absorption
skin healing
toning skin
gentle exfoliator
remineralize skin
gentle on your skin
great daily cleanser for oily skin types
Kaolin clay is a wonderful clay mask on it's own.
Simply mix 1 ½ tsp of kaolin clay with ¾ of purified water.  Add more water if required and mix to a desired consistency.  I like to use witch hazel or rose water instead of water with my basic clay masks.  Refer to our how to use a clay mask for the rest of the instructions.
But I love to use Kaolin clay as a base for adding natural ingredients that provide further benefits to your skin.
Our Kaolin clay is a cosmetic clay sourced from France.
Important: Also make sure to check the Kaolin clay that you purchase is cosmetic grade.
Kaolin clay sole use is not in cosmetics.  It has a wide range of uses ranging from pottery, ceramics, and pharmacueticals. 40% of kaolin produced is used as a paper filler.
So make sure that you are buying cosmetic grade Kaolin.  This ensures that the clay has been tested to ensure it's "clean".  That there are no other minerals or elements that would be dangerous for skin use.
Kaolin clay is one of the 4 types of clay we have in our clay mask assortment pack.  Click here to get it on amazon. 
Ready to take a kaolin recipe for a test drive?
Get Kaolin clay in our clay mask assortment pack on
amazon
.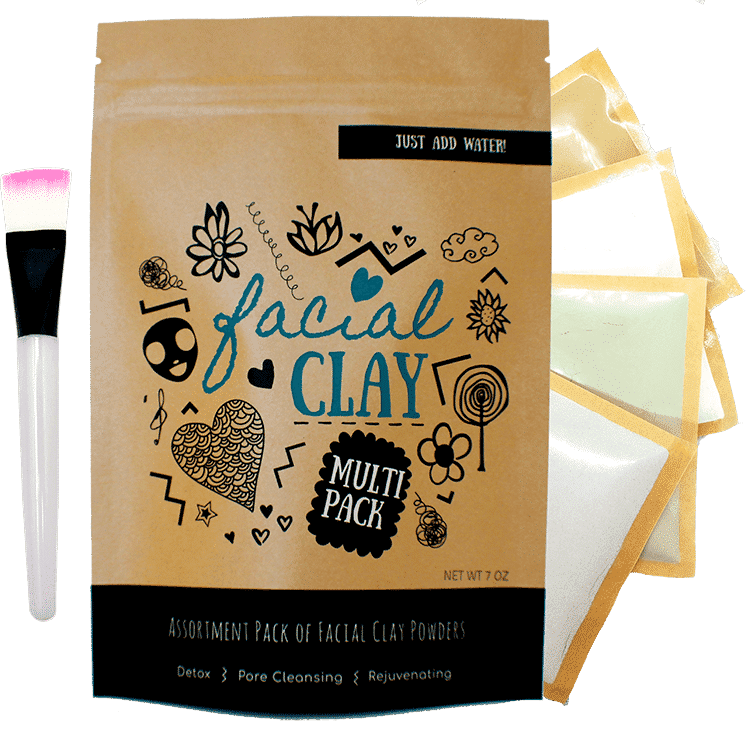 Clay masks don't just work for your skin because of marketing.  There's some pretty cool science behind
how clay works
.
Here's the most common Kaolin Clay questions that we get:
What is the PH of Kaolin Clay?
The PH of any products that you apply to your skin is important to consider.  Your skin is a PH of 5.5.  A neutral PH is 7, but if you apply a skincare product that alkaline above 7 or acidic below 5, you might find some adverse reactions.
Kaolin clay is most often a neutral PH or a bit lower, 4-5 in standing kaolin clay pools. (source)
Can you use Kaolin Clay daily?
Yes and no.  It really depends on what type of skin you have.
Kaolin clay is not a swelling clay so it is not strongly absortative like other clay types.
Because of that, it's gentle enough to use on your skin everyday.
BUT Kaolin clay is still very effective at absorbing excess oil on your skin.  Although it works better to balance out your oil production.  So for oily skin, kaolin clay is amazing as a daily cleanser.  It's what I use daily.
If you have normal, combination or dry skin, test every couple days first to see how your skin reacts.
How to use Kaolin Clay as a cleanser
I use Kaolin Clay as a cleanser everyday! My skin is extremely oily and it does and AMAZING job at keeping my oil in check.  Now I rarely get acne breakouts.  I contribute that to balancing my oil production from using clay masks.
I hope to do a kaolin clay cleanser recipe soon.  In the meantime, it's super simple to integrate this fluffy clay in your daily routine.  Or check this kaolin based cleanser.
Put ½ teaspoon in my palms, add a couple drops of water.  Apply to your skin in circular motion and massage. After approx a minute, remove from your skin.  You can also follow up with your normal cleanser if you wish.
Is Kaolin good for acne?
Any clay mask that cleanses your skin from impurities is good for acne.  Impurities get trapped in your pores like dead skin cells, clogged hair plugs, bacteria, dirt and grime that can cause acne.
Kaolin clay is also great at absorbing excess oil from your skin.  When your skin produces too much oil, that excess oil can get trapped in your pores and cause a breakout.
The best way to keep acne in check if you have oily skin is to get your sebum (oil) production in check.
So yes, kaolin clay is good for acne.  However, bentonite and french green clay can be even more effective for acne.  Get our 9 best bentonite clay recipes.
Disclaimer: Our content does not constitute a dermatologist or medical advice.
Did you try this mask? I would love to hear how it worked for you! Leave a comment below.
Looking for another type of clay? Try out these featured recipes: